For over a thousand years pilgrims from around the world walk this route to visit the tomb of Saint James in the amazing cathedral of Santiago de Compostela. Come walk with us this incredible exprience.
We will do yoga every morning, and then completing the Camino de Santiago. You don´t have to worry about logistics : we will guide you and also you will have a support vehicle for luggage. In the afternoon we´ll arrive to comfortable hotels to replenish energy for the next day.
RESONS TO WALK THE CAMINO DE SANTIAGO
The physical way is one: the one you will walk, but the personal one is unique, is that you'll be challenged to do and will be with you for a lifetime. It's like living a small life in a few days, with a beginning and end, with meetings, and with good days and not so good ones. It is a way to meditate in movement.
.
There are many ways to walk it and lots of reasons to do it. The one we propose here is not the classic journey for weeks and to sleep in shelters. What we will do yoga every morning and then walk about 5 hours every day to our next destination. You do not have to carry your backpack and we will arrive to comfortable hotels to replenish our energy. A practical way walk and do yoga: two in one.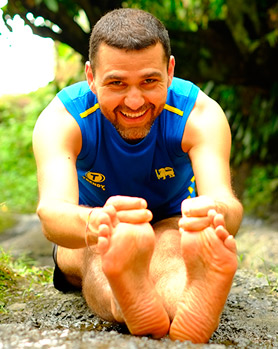 FEDERICO OROZCO
Yoga and travel enthusiast and entrepreneur. Born in Mexico. He is a certified yoga instructor (200 hours) by the 3HO Kundalini Yoga organization since 2006. He worked in Barcelona as a tourist guide. Federico loves to travel, nature , yoga and everything related to wellness. He created Omm Retreats in 2013, a platform where he puts together his work as a tour manager and yoga instructor,
promoting yoga retreats in nature.
This is the fourth time he does The Camino, quite an experience!
Check out the yoga retreats he is organizing in this web, and also in his facebook, click here: facebook.com/ommretreats

THIS TRIP IS PERFECT FOR ALL LEVELS OF YOGA AND TREKKING EXPERIENCE.
COME SOLO, AS A COUPLE OR WITH FRIENDS. STAY IN A SINGLE OR DOUBLE- OCCUPANCY.
DATES: June 19-25, 2020
YOGA INSTRUCTOR: Federico Orozco

This trip includes:
6 night in selected hotels

Breakfast and dinners

Daily yoga and meditation sessions

Local guide in Santiago de Compostela

Transportation from airport

Minibus for support and luggage
Not included:
Flights

Optional excursions

Tips
[contact-form-7 404 "Not Found"]
Questions? Drop us a line / whatsapp +52 1 4774615284